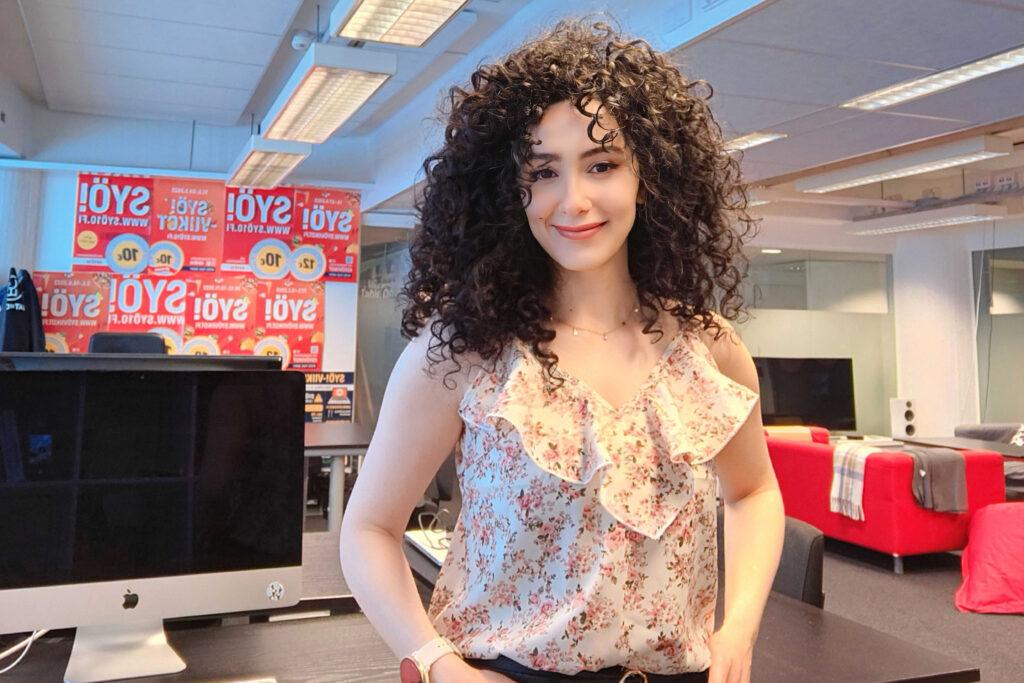 Noor Alfakih spent six weeks interning at City Digital in the summer of 2023. Trained as an architect-engineer and later as a graphic designer in her home country, Noor wanted to learn industry-specific vocabulary related to graphic design and get acquainted with Finnish work culture during her internship.
From Art and Creativity to a Career: Noor's Journey to Graphic Design
Noor's journey to becoming a graphic designer began in childhood, when she became interested in drawing and art. Over time, this hobby grew, and Noor's creativity and love for art led her to choose a profession where she could utilize her creativity and artistic skills. Noor's passion is evident in her work, and she has received positive feedback from both clients and friends.
"Positive feedback reminds me that I need to be better every day than the day before," Noor says.
New Beginnings in Finland and at City Digital
Noor moved to Finland from Syria in 2022 and began studying Finnish. In the summer of 2023, she applied for an internship at City Digital, where she got to apply her skills as a graphic designer. Noor's internship at City Digital was a beneficial and enjoyable experience. She learned many new things, improved her Finnish language skills – especially professional vocabulary – and got to know Finnish work life.
"The best help in learning Finnish was that I had to use it at work," Noor shares.
Diverse Projects and getting to know Finnish Work Culture
At City Digital, Noor had the opportunity to work on several graphic design projects. One that stood out was designing advertisements for the SYÖ! Weeks, an important event visible in various channels, such as social media and restaurants. Noor noticed that working life in Finland is busier but also fair and enjoyable.
"I find the Finnish work environment pleasant, fair, and fun," she says.
Towards Future Goals
While Noor is not entirely sure of her future plans, she has ambitious dreams:
"It's hard to say what I might be in the future, but I want to be top-notch in graphic design and know something that others don't. Maybe I'll be an art director or a manager in the future."
Noor also wants to emphasize the importance of internships in integration training and encourages others seeking internships to choose the right and suitable field for themselves.
Interested in Interning at City Digital?
City Digital is proud to support interns on their journey to becoming professionals. Instead of a specific internship program, we accept applications for internships throughout the year, and the internship experience is always tailored to fit individual needs, situations, and preferences. It is important for us to offer opportunities to interns from diverse backgrounds and educational programs.
Internship applications can be sent to Ville at [email protected].